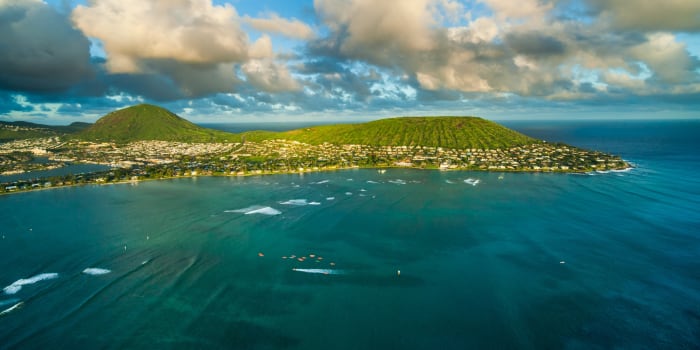 HAWAII KAI: COASTAL ZEN LIVING
This lovley neighborhood exudes a blend of serene yet active lifestyle, as it is located at the base of a scenic mountain ridge, allowing for a calm or active outdoor activities.
Hawaii Kai is a calm residential neighborhood located on the Southernmost tip of O'ahu. Due to the mountainous terrain, many of the houses are located along the base of the mountains. This leads to beautiful views from certain areas, and easy access to many of the hidden hikes in O'ahu that tend to be accessed by locals only.
HAWAII KAI REAL ESTATE INSIGHTS
The average listing price for luxurious houses for sale in Hawaii Kai is $1.1 million. Hawaii Kai encompasses various high-end neighborhoods within its border. Including the coveted Portlock and Koko Kai neighborhoods, which are located along the Koko Crater. Some of the luxury real estate and Hawaii Kai houses for sale are listed for as much as $14 million.
PEOPLE & LIFESTYLE
Hawaii Kai is a beautiful region in O'ahu that is mainly residential. Thus, you will not have to deal with excessive traffic or too many tourists on the beach. Hawaii Kai real estate's upscale neighborhood has so much beauty to offer all around.
For one, the Hawaii Waikiki Golf Course offers an executive course with spectacular ocean views to enjoy in between holes. Winter brings the beautiful whale watching season, creating a memorable game along with it. The Championship course is three times as large, at 6500 yards, and caters to more advanced golfers who don't mind a bit of a challenge.
Hawaii Kai real estate's ideal location allows for a swift 10 minute scenic drive to a number of hiking trails. Spitting Caves, One of the most talked about blow holes in O'ahu, is located on the Southernmost tip of O'ahu in Portlock. This hidden gem has a great vantage point for whale watching during the winter season. Along this path you can also find the large surf break point on this coast, coined China Wall since the waves perfectly crash against the cliff. Walking along this area gets the heart pumping, but the scenic views along the coast is worth the exercise.
Kuliouou Ridge Trail is another iconic trail along the mountain ridge on the Northwestern side of Hawaii Kai. This rigorous hiking trail will leave you breathless, but the real kick is the breathtaking view from the top. You'll get a glimpse of Waikiki and Honolulu, the hilly terrain around the area, and the turquoise Pacific Ocean.
DISCOVER YOUR NEW HOME IN HAWAII KAI TODAY
For more information on exclusive Hawaii Kai estates in Oahu or to schedule a private showing of the finest available estates contact Hawaii's elite luxury real estate agent Anne Hogan Perry.