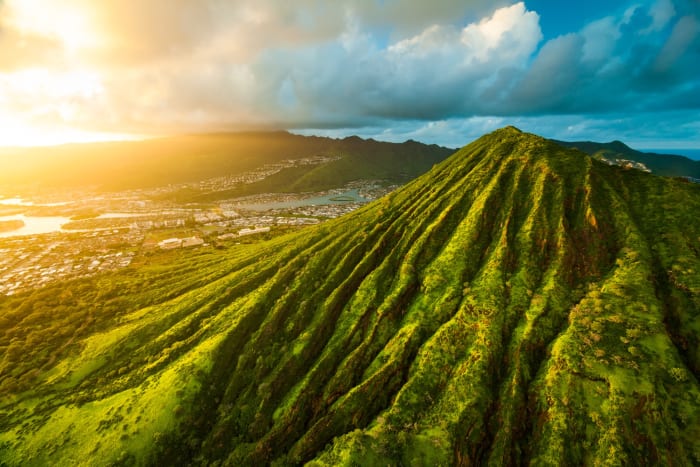 HAWAII LOA RIDGE: PREMIER COVETED ESTATES
Meticulously landscaped private roads and spectacular views amount to the most coveted exclusive gated community in O'ahu.
An exclusive world class, gated community on the prized southern shoreline of the island of Oahu. Rising from sea level to over 1000 feet, this promontory "Ridge" community, offers stunning coastal, mountain and ocean vistas. Minutes to fine dining, beaches and approximately 15 minutes to Waikiki. This single family residential enclave, is a community of over 500 homes. One of Oahu's few gated communities, offering resident"s a multitude of amenities, including tennis courts, parks, hiking trails, and community club houses.
Living in Loa Ridge allows residents to have the best of both worlds: an exclusive chic community lifestyle and proximity to the hustle and bustle of Honolulu and Waikiki. Thus, offering recluse abode, away from the traffic and tourist crowds that your family can enjoy. With roughly 500 estates within its gates, this deluxe gated community is highly coveted among Oahu residents. Once a estate is on the market it is not long before a lucky person snatches it up.
LOA RIDGE REAL ESTATE INSIGHTS
The average listing price for luxurious Loa Ridge homes is $2.39 million. However, as this gated community extends North along the mountain range, the price for these estates can go up to $10 million. Furthermore, since it is a private gated residential community, there are community fees associated with the estate.
PEOPLE & LIFESTYLE
The Loa Ridge community brims with well-educated and successful people. The median age for residents is 48 years of age, with 58% having a Bachelor's degree. A majority of the residents lead an active lifestyle. The community pool is always maintained clean and tidy, and is perfect for a quick morning splash. The green tennis courts adjacent to the picnic area allows for fun family outings during sunny days.
Loa Ridge is located between Diamond Head and Koko Head, two high-end neighborhoods in O'ahu. This allows residents easy access to other gorgeous regions of O'ahu. With hundreds of outdoor activities within a 10 mile range, there won't be an idle day in your calendar. Unless you choose to lay by the sandy beach and take in the sunny rays Oahu has to offer.
DISCOVER YOUR NEW HOME IN HAWAII LOA RIDGE TODAY
Our highly skilled and efficient team are here to help you find your dream home in Hawaii's most exclusive gated community, Loa Ridge. For more information on exclusive Hawaii Loa Ridge estates in Oahu or to schedule a private showing contact Hawaii's elite luxury real estate agent Anne Hogan Perry.